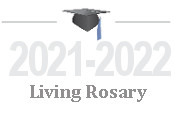 October 12, 2021
All alumni are invited to the Living Rosary, the oldest traditional ceremony at BCHS.
Members of the current senior class lead those attending in reciting the rosary, beginning their senior year in prayer to Mary, the patroness of Bishop Chatard High School.
Check back in early fall for the ceremony details.