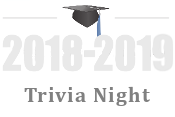 April 13, 2019
Do you sometimes worry that your brain is overloaded with random facts? Trivia you've been stockpiling for years may make you a champion at the annual BCHS Trivia Night!
New Date! Mark your calendars for Saturday, April 13, for Trivia Night 2019!
Come & Play! "Be A Good Sport Trivia Night" is organized by the BCHS Athletics Booster Club, with proceeds going towards BCHS Athletics. Your emcee for the evening will be BCHS alumnus Pat Sullivan!
This event has soared in popularity and you won't want to miss the fun! In past years, it has sold out. Some participants say it was the most fun event at BCHS that they have attended! Questions? Please contact Amy Beausir at mollyandmyrtle@gmail.com