Aaron Hepp, '12, will be at CFP National Championship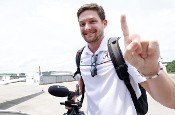 Aaron Hepp, BCHS Class of 2012, is once again on the field at Lucas Oil Stadium! This time he is a senior broadcast producer and editor at the University of Alabama, on the sidelines and behind the scenes for the Crimson Tide as they meet Georgia in the 2022 College Football Playoff National Championship!
After playing on back-to-back state champion football teams at BCHS, Aaron played football from 2012-2016 at Ball State. During that time, he joined Ball State Sports Link to learn the trade, to prepare for a career after football. Upon graduation, he spent 7 months at the Tampa Bay Rays baseball team, and has been working with Alabama Athletics since July 2017.
Read the complete story (in the Muncie Star Press) of his pathway from playing football to producing broadcasts for the top game of the college season.
Photo courtesy of Aaron Hepp/Star Press