Buy these items AND benefit Bishop Chatard High School. Proceeds support the students and programs at BCHS.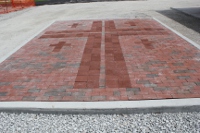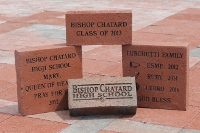 Legacy Bricks
Leave your legacy at your alma mater and pave the way for Trojan fans as they enter the Bishop Chatard athletic stadium!
You can now purchase a legacy brick to commemorate your connection with Bishop Chatard, your family, your faith and to celebrate your belief in the building blocks of Bishop Chatard High School. Your brick will be placed at your choice of the entryway to the stadium or baseball field and will welcome students, alumni, and guests.
Orders for commemorative bricks can be submitted at any time during the year; however, bricks are installed in batches, at one of two times during the year. Order by June 15 and bricks will be returned by the end of the summer. Order by October 1 for December delivery (installation will be later when the ground thaws).
Questions? Contact Deanna Murphy, Director of Alumni Relations & Special Events at dmurphy@bishopchatard.org