Alexandra Syndram, '15, Miss Indiana World, heads to Miss World America Competition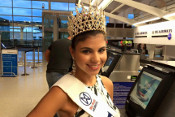 Congratulations to BCHS alumnae, Alexandra Syndram, Class of 2015, as she heads to the Miss World America Competition on July 3, 2015.
She was named Miss Indiana World earlier. From her facebook, she says, "The Beauty With a Purpose portion of Miss World America was one of the many reasons I fell in love with this organization. I've been volunteering with the homeless for years and to be able to shed light on my new Brown Bag Project really inspired others to join me in the fight against homelessness. If you don't already know about the Brown Bag Project, this is where you fill paper bags with food gift cards and toiletries to keep in your car and later give to the homeless when you see them. This way you know you helped someone! In the words of Mother Teresa, "If you cannot feed one hundred people, then just feed one"."
Update: Unfortunately, Alexandra did not win the Miss World America competition.