Alumni meet again on the lacrosse field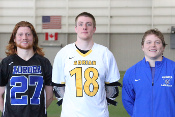 BCHS lacrosse alumni, Dustin Rhodes (Class of 2013), Max Groves (Class of 2013), and Nolan Miller (Class of 2011) met on the NCAA lacrosse fields again when Aurora University lacrosse played against Adrian College. Miller and Rhodes are on the Aurora University Men's team and Max Groves is on Adrian's Men's lacrosse team.
Pictured from left to right: Dustin, Max and Nolan.