Captain Kevin Zander, '10, is engaged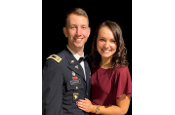 Congralutions to Kevin Zander, BCHS Class of 2010, who is engaged to Emily Jarvi, daughter of Michael and Amy Jarvi of Trout Creek, Michigan. They will be married at St. Joan of Arc Catholic Church here in Indianapolis on April 14, 2023.
Kevin is a captain in the Army, having served as a MedEvac helicopter pilot in Korea, Afghanistan, and Germany. He is currently studying towards a masters degree in Aerospace Engineering at Georgia Tech. Emily, an avid fisherman and outdoor aficionado who grew up in Michigan's UP, recently completed her MBA and is a management analyst with Molson Coors Brewing.
Following their wedding, Emily and Kevin will be moving to West Point, NY, where Kevin has been accepted to the Mechanical Engineering faculty at the United States Military Academy.