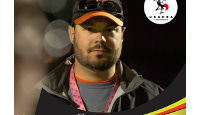 Colin McSharar, BCHS Class of 2007, has been named the Head Coach for Uganda's Women's Senior Lacrosse Team. Team Uganda will be the first African nation to compete at the World Games which will be June 29 through July 9, 2022, in Towson, MD. This will also be the first time Uganda has ever sponsored a women's team to compete internationally.
Colin was a four-year letter winner as goalie at BCHS and went on to an illustrious college career at Mount St. Joseph University. There he was a four-year letter winner and two-year starter. He holds the university record for wins in a season and total goals against the average. He holds the NCAA record for career points as a goalie with 3.
Read the full story at the-sportsnation.com
Congratulations Colin!