Emily Schafer, '10, receives Missionary of the Year Award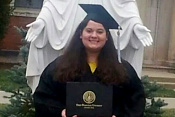 Congratulations to Emily Schafer, Class of 2010, who in April 2014 received the Saint Paul's Outreach Student Missionary of the Year Award. Saint Paul's Outreach is a national organization that promotes helping to bring authentic Catholic Faith alive on college campuses through the New Evangelization and in a particular way through relational evangelization. Emily served as a student Missionary for 3 years of college.
She has just graduated with a Bachelor of Science of Education degree in Elementary Childhood Education and a Minor in Theology from Ohio Dominican University in Columbus, Ohio on 12/13/14.