Nick Martin, '11, is captain at Notre Dame football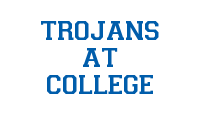 Congratulations to Nick Martin, BCHS Class of 2011, who has been chosen as one of the 5 captains of the University of Notre Dame football team for 2015! In 2014, Nick was named team captain in the fall and started all 13 games. He transitioned from center to guard after three games, then started the rest of the season at left guard. Good luck, Nick, this season!
Read about Nick's accomplishments at Notre Dame Fighting Irish Athletics.