Abby Specht, '09, nears celebrity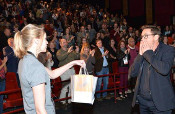 Abby Specht, Class of 2009, presents the goodie bag to Robert Downey Jr, thanking him for his appearance at the Heartland Film Festival, Oct. 2014. Downey attended a QandA about his new film, 'The Judge'. Abby works for the festival.
Our own BCHS Film Club has a film shown in the festival, high school category. 'It Sticks' will be shown on Oct 17, 19, 21, and 24.