Anna Hoefer '05 – from CPA to Sr. Karol Ann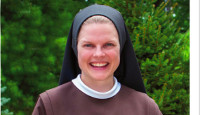 On August 2, 2021, Anna Hoefer, BCHS Class of 2005, made her final vows as a Sister of St. Francis of Perpetual Adoration in Mishawaka, Indiana. We rejoice in her journey!
Anna graduated from St. Mary's in South Bend had became a certified CPA before God's call drew her to the Sisters of St. Francis.
Upon taking her final vows, Anna chose the name Sr. Karol Ann, honoring St. Pope John Paul II (whose name was Karol Wojtyla) and also honoring her baptismal name.
Sr. Karol Ann will continue to use her skills as an accountant in her work with the Franciscan Alliance that manages several hospitals run by the community. She will also be studying for a master's degree in business administration.
But, most of all, her "a radical response", as St. John Paul II says, in following Jesus' call through acceptance of the evangelical counsels of poverty, chastity, and obedience for the sake of the Kingdom of Heaven begins a journey of faith and love in her life and those around her.
— Read the full story in Fr. Richard's weekly letter, Our Lady of Mt. Carmel Bulletin, August 8, 2021.