Eileen (Zander) Surprenant, '05, welcomes new daughter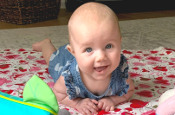 Eileen (Zander), BCHS Class of 2005, and David Surprenant welcomed their fourth child, Claire Léonie, in January 2023. Claire joins big sisters Molly (6 ½) and Callan (5) and big brother John (3 ½).
Eileen is currently a stay-at-home mom, active in their parish school. David is a Mohs dermatological surgeon affiliated with Deaconess Hospital in Evansville.
Congratulations to Eileen and the Surprenant family!