Indy Trolley debuts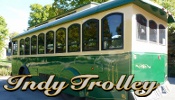 Just this past November, Jack Carr Boyd, Class of 1965, started his own trolley business, Indy Trolley.  With a brand-new 26-passenger, handicap-equipped trolley, the business is focused on the wedding industry, but is happy to serve local corporate events, sporting and tourism, serving within a 100 mile radius of Bishop Chatard High School.
Check out his website www.IndyTrolley.com for more information.
Like to try out Indy Trolley? Jack is donating a reservation on his Trolley at this year's Chatard-A-Bration on February 23rd.  Win the bid and the chance is yours!
Jack's Advice to BCHS Alumni: Follow your dreams. "It's impossible, said Pride. It's risky, said Experience. It's pointless, said Reason. Give it a try…whispered my Heart!"