Joey Annee, '18 , All-American punter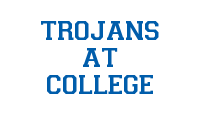 Joey Annee, BCHS Class of 2018, has become one of the top Division III punters during his career at Wabash College. Just starting his punting career as a sophomore at Bishop Chatard and only appearing in 3 games as a freshman at Wabash, he has excelled to be a huge force for the Wabash team. By the end of his Wabash sophomore season, he was named to the Division III All-America Honorable Mention Team. Prior to the 2020 season that was wiped out from COVID, Annee was named an All-American by multiple publications.
Through three games in the 2021 season, Annee has the second-longest punting average in Division III. That mark would rank him 25th among Division I punters in the top level of college football.
Read his story at Wabash.edu
Congratulations Joey!