Honoring fallen firefighter Warren Smith, '00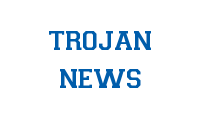 On Sept. 10, 2021, BCHS hosted a Mass in partnership with the Indianapolis Fire Department's Emerald Society on the 20th anniversary of 9/11. Dozens of firefighters came to the school to pay tribute to the first responders who gave their lives to help others after the terrorist attacks on 9/11.BCHS
The Sept. 10 Mass was also an occasion to pay tribute to Warren Smith, a 1990 Bishop Chatard graduate who went on to become an IFD firefighter.
He died in the line of duty in 2000 during a diving exercise. A plaque honoring Smith was given to school leaders after the Mass so that its students can remember the self-sacrifice of the school's graduate.
Smith's brother Marc Smith, a member of St. Andrew the Apostle Parish in Indianapolis, attended the Mass.
"Throughout the years, I've known how they felt about him," said Smith of the way IFD firefighters have honored his brother. "It means a great deal. To me, he was my big brother. But to see how other people see what kind of person he was is very fulfilling and uplifting."
IFD battalion chief Dudley Taylor, who served with Warren Smith, spoke about his fallen comrade.
"Many may only remember the tragic day on which he lost his life," said Taylor. "But we're here today to remember and honor all the days of his life, especially those within Bishop Chatard High School. The lessons he learned at Bishop Chatard served him far beyond the confines of his classroom."
Read the full story in The Criterion.