Kelly (Gardner) Wohler '07 returns to Indy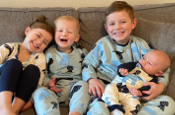 Kelly (Gardner), BCHS Class of 2007, and her husband Andrew recently moved to Indianapolis as Andrew joined Forte Sports Medicine and Orthopedics as a foot and ankle surgeon.
They just welcomed their fourth child, Bennett Andrew in early 2023. Bennett joined siblings Michael (5), Willa (3) and Miles (21 months). Kelly is a Physician Assistant and will be starting at Riley Children's Hospital in Pediatric Hematology/Oncology following maternity leave.