Seth Ball, M.D. '06 caring for kids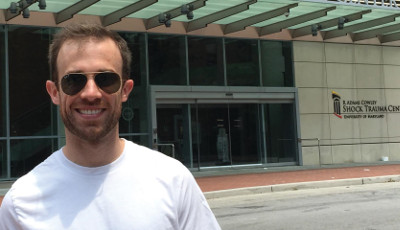 The life of a medical resident – it is the stuff that TV drama series are made of. But a decade of education and training that includes days lasting well beyond 24 hours is real life for Bishop Chatard Class of 2006 alumnus Dr. Seth Ball.
Seth just completed his first year as an emergency medicine pediatrics resident at the University of Maryland Medical Center. As part of the combined emergency medicine and pediatrics program, the Class of 2020 resident will spend five years in the medical residency program.
"It was eye-opening to find there was a specialty in pediatric emergency medicine," Seth said. While at Indiana University School of Medicine his interest in emergency medicine grew, but he also knew he had a love and passion for working with kids.
"On my first day of my third-year Peds rotation (in medical school), a resident introduced himself as a combined EM/Peds resident. Two weeks later I spent the afternoon in the Peds emergency department and there was no turning back," Seth said.
The self-professed "7-year-old in a 27-year-old's body" recognizes that it scares some in the medical profession to work with children, but says he feels blessed to be able to walk into a kid's room, make a connection, and help put a smile back on the child's face. "It is easy for me to be goofy, and they'll be goofy right back," he laughed.
The combined residency program requires a significant commitment of time, energy and resources, but Seth explained that it is also a rarity in the field of medicine and he is grateful to be able to train in one of only four programs like it in the country. Other medical schools offering the combined EM/Peds program are at IU's Riley Hospital, Louisiana State University and the University of Arizona.
In this unique program, Seth's residency schedule rotates every three months between spending time in adult emergency medicine and pediatrics. While there is no such thing as a "typical day," he is usually on duty between 12 and 28 hours at a time, depending on where he is working. "They keep you busy and you don't realize how tired you are," he said, "until you walk out the door."
Seth said that he loves working in the emergency side of things because it is acute – "they come in and have something wrong that is very tangible, and you can fix it." But he recalls a pediatric case he handled early in his residency as one of the most impactful. A 9-month old who had a somewhat chronic respiratory problem had been admitted to the pediatric ICU, and Dr. Ball was assigned to the case. "It was my first month doing in-patient pediatric medicine and I was taking care of this very sick 9-month-old. It was both terrifying and exciting," Seth said.
"It was a month when I was in the hospital every day, and I got to see him get better and speak with the parents every day. They were incredibly grateful to be at the University of Maryland.
"As a resident you spend a lot of time with parents, explaining the physiology," Seth said. Through that experience, he saw first hand how important it is for doctors to convert medical lingo and terminology into language people understand, and to do that in a kind and caring way.
An award-winning runner in high school and college, Seth said one of his favorite ways to decompress is still taking a good run.
"If I get lucky enough to have a short day and I'm out by 5:00 or 6:00, I go for a run," Seth added. Running along the harbor in Baltimore is one of his regular routes.
When asked how life as a resident compares with popular shows about docs, Seth surmised that the early 2000s sitcom "Scrubs" may be among the most accurate. While they stretched it a bit with the character's responsibilities and situations, he said, they weren't too far off when dealing with the stresses of residency and the way some days go. The show did a good job of showing how residents rely on one another.
Seth has lived in Baltimore for just one year and is still enjoying exploring the city with his new friends from both the pediatric and adult emergency medicine programs. He said that he and his classmates do a good job of taking full advantage of rare free days. They've enjoyed quick trips to Annapolis and Washington, D.C., kayaking on the Chesapeake, and discovered hiking trails and camping areas that provide adventure away from the hospital.
"The camaraderie and bonds you form is one of the best parts of being in resident," he added.•