Will Zander, '08, to wed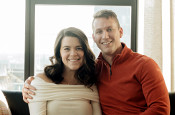 Will Zander, BCHS Class of 2008, is engaged to Mary Kate Knorr, daughter of Tom and Marie, of Joliet, Illinois. They will be married a St. Mary of the Angels Catholic Church in Chicago on August 20, 2022.
Will has lived in Chicago for almost 4 years, working as a Special Agent with the FBI. Mary Kate formerly served as the Executive Director of Illinois Right to Life She is the Founder and Director of Feminae Vero, an organization whose vision is to serve, educate, and evangelize girls and women by sharing the truth about their reproductive health and how it connects to our Catholic faith.
Congratulations to the newly weds!