BCHS Alumni 'On the Water'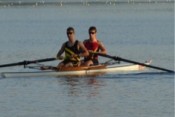 Bishop Chatard is making its mark on Boilermaker Rowing. Since 2008, five Bishop Chatard alumni have participated in Purdue Crew in West Lafayette, Indiana. Alumni include
Ben Wheatley '08
,
Will Zander '08
,
Rob Kuhlman '08
,
Daniel Ford '09
and
Eddie Fischer '10
.
Jim Deitchman '79
, a Bishop Chatard and Purdue alumnus, rowed for Purdue during his years there as well. The Purdue Crew Team is a consistent winner in regattas throughout the USA. Most recently, the team took home the Dad Vail Regatta team trophy in both 2011 and 2012. Ben Wheatley and Will Zander were named academic all-Americans by the American College Rowing Association. Will Zander served as team VP from 2010-2012 and won the 2011 Hovde Award for leadership, given to "the member who, thorough personal sacrifice, loyalty, and perseverance, upheld the honor and tradition of Purdue Crew." Currently, Dan Ford serves as "rigger" for the men's team. After serving as a spectator for many Purdue regattas, Will Zander's brother
Kevin, Class of 2010
,  tried out for the Army crew team upon his arrival at West Point. He made the team and has rowed competitively throughout the east coast and New England. Kevin and Will Zander both rowed at the Dad Vail Regatta in 2011 and 2012 – although never in the same race against one another!