Elisabeth (Patterson) Williams, '07, meets Pope Francis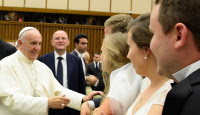 There is tradition that if a couple arrives for a Wednesday audience with the pope within six months of their wedding and wears the clothes they were married in, they will be allowed to sit in a reserved section to receive a blessing from the pope.
And so, Elisabeth, along with her new husband Scott Williams, began one of those amazing adventures that they hope will define their lives together for years to come.
Read the story of their journey in the September 23 issue of the Criterion.