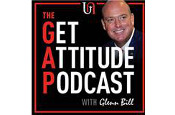 Glenn Bill, BCHS Class of 1986, has received a second National Communicators Award for one of his Get Attitude Podcasts (The GAP). The first Award in 2020 was for Diversity, Equity and Inclusion : The 8:46 Interviews Stories of Black America and featured BCHS Alums Todd Finnell, Raphael Coffee, and Allan Halliburton, as well as, Misty Ackles & Tamiko Madden.
This years Communicator's Award was for Non-Profit & Spirituality: Featuring the Little Sisters of the Poor.
The Communicator Awards is the leading international awards program recognizing excellence in communication across a spectrum of industries, championing effective and meaningful work.
Glenn is a Attitude Keynote Speaker and podcast host. View what's coming up next in his podcasts.