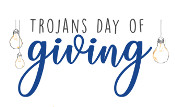 March 22, 2022
2022 Trojans Day of Giving is March 22!
Our students have the drive to lead in this world and let their light shine. Your tuition assistance support will light up that path.
60th Year Challenge
With the amazing leadership of our alumni donors, dedication of our parents, and support of our community, we all came together and contributed an incredible $54,051 toward tuition assistance at Bishop Chatard.
We are so grateful for all who helped us achieve another proud Trojans Day of Giving! There is still time to donate to help us reach our goal of $60,000 in celebration of our 60th anniversary.
---
Shine in Their Honor
When you make a gift online you'll get the chance to shout out to someone special (old classmate, teacher, mentor, coach) and give your gift in their honor. When you do, we'll put their name on the Shine-On inspiration wall, shown below.
---
---
---
Indiana Residents
Indiana residents can choose to donate to Bishop Chatard thru an SGO (Scholarship Granting Organization), which directly awards educational grants to our students most in need AND allows donors to receive a substantial Indiana state tax credit of 50% of your donation (in addition to any Federal tax deduction).
Questions? Contact Margaret Ruffing, Executive Director of Fund Development, at mruffing@bishopchatard.org