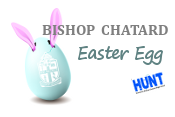 April 3, 2021
Our youngest Future Trojans are invited to join us at the Annual BCHS Easter Egg Hunt on Saturday, April 3, 2021! Bring your Easter baskets to collect eggs on the front lawn of the school. You'll have an opportunity to meet the Easter Bunny. The Easter Egg hunt begins promptly at 9:00 a.m.
To ensure the safety of all the children, we have made arrangements to block Crittenden Ave. from vehicle traffic beginning at 8:30 a.m. Please park in the back of the school. That lot can be accessed prior to 8:30 from Crittenden or from Keystone, Northgate and 58th St. at any time.
Masks are required for everyone older than 2 years at all times. Proper social distancing must be maintained.
Registration is required.
Contact Kelly Stuhldreher at kstuhldreher@bishopchatard.org if you'd like to help or have ideas!