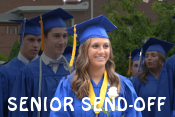 August 4, 2019
Gather with your classmates one last time before you head off to college and other adventures.
Members of the Class of 2019 are welcomed back to school on Sunday, August 4, from 5:00 p.m. to 7:00 p.m. for the Senior Send-off and yearbook pickup.
The evening begins with a prayer service in the BCHS chapel, followed by yearbook pickup, a cookout and time to socialize with classmates and faculty.
5:00 p.m.: Prayer service begins in the BCHS chapel
After Prayer Service: Yearbook pickup
5:30 p.m.: Cookout, in the area between the school and the SBC building