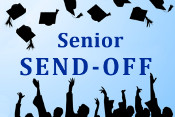 August 7, 2022
Gather with your classmates one last time before you head off to college and other adventures.
Members of the Class of 2022 are welcomed back to school on Sunday, August 7, from 6:00 p.m. to 7:30 p.m. for the Senior Send-off and yearbook pickup.
Come early at 6:00 p.m. for a prayer service at the new prayer grotto (weather depending).
Come anytime in the evening to get a slice or two of pizza, see friends, play games, give Alumni your information and get your 2022 Yearbook.