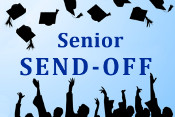 August 6, 2023
New Alumni: Gather with your classmates one last time before you head off to college and other adventures.
Members of the Class of 2023 are invited to BCHS for the annual Senior Send-Off on Sunday, Aug. 6, 2023, from 2- 3:30 p.m. (note new time)!
The afternoon will start with a brief prayer service at 2 p.m. at the prayer grotto in front of the SBC, followed by pizza, a few rounds of cornholes, a chance to visit with friends and pick up the 2022-2023 yearbook.
We hope to see you Aug. 6 at BCHS!
Questions? Contact Julia Hasbrook at jhasbrook@bishopchatard.org