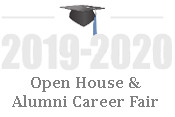 November 7, 2019
All alumni are invited to attend the annual BCHS Open House, to be held on Thursday, November 7, 2019.
All attending have been enriched by the 'Alumni Career Fair' at the Open House, and it was embraced with enthusiasm by prospective families.
If you are interested in sharing your experience at BCHS and how it prepared you for college and beyond, please contact Kelly Stuhldreher at kstuhldreher@bishopchatard.org about participating at the Career Fair.
If you'd like to tour the school and see what's happening, this is the place to be. We hope to see you there!