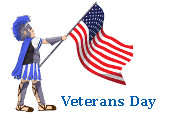 November 12, 2020
Veterans Day Mass: November 12
Today, and every day, the Bishop Chatard community honors the military veterans who have served our nation, and we continue to pray for the safety of the men and women serving in today's Armed Forces.
As a small thank you for service to our country, we would like to honor all veterans, their family and friends who have served or are serving in our Armed Forces at our Veteran's Day Mass on Thursday, November 12, 2020 at 9:55 a.m. Attendees can park on Crittenden Ave, east side of the street. All attendees should enter via Door #1, the main lobby entrance.
We'd like to hear from you
We are always interested in hearing from our alumni who are in active military duty or are veterans. We will pray for you and can include you in our veterans/military display at the Mass honoring those who serve our country.
Questions? Contact Kelly Stuhldreher at kstuhldreher@bishopchatard.org
Veterans' Day Concert: November 11, 2020
The BCHS Veterans' Day Concert, presented by the BCHS Music Department and honoring veterans with stirring music, is tentatively planned for Wednesday, November 11, 2020, at BCHS. All are welcome to attend. Details will be posted as they become available.